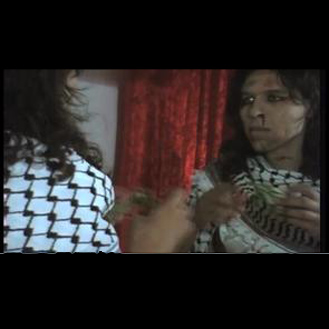 Sunday H19
TOPOGRAPHIXX: Trans in the landscape
An international program of video art concerned with landscape, border, zone and territory, in a transgender spectrum
Curated by Tobaron Waxman. Introduction by Francesco Macarone Palmieri aka Warbear
1.Chris Vargas (USA)
Have you ever seen a transsexual before? _ 2010 (04 min)
"The first half of the video records a guerilla performance, and through repetition, becomes a declaration and a campaign for Female-To-Male (FTM) transsexual visibility. When the campaign proves futile I enter a magical animated world where I observe and am greeted by colorful and flamboyant wildlife. Dedicated to friend Sam Lopes." – Chris Vargas
2. Barbara de Genevieve (Chicago)
Out of the Woods _ (08 min)
Una scena di sesso nel bosco tra FTM (Female-To-Male) e MTF (Male To Female), girato durante il Camp Trans.
Vincitore del Paris Post Porn Film Festival Award 2010.
3. Del LaGrace Volcano (London/Stockhölm)
The Passionate Spectator
 _ 2004 (10 min)
An elegantly costumed genderqueer apparition traverses a European urban landscape. Inspired by Baudelaire and the late Brixton Brady, 
this short embodies the magic of the flaneur who
sees but does not buy, who is in constant movement across borders which s/he refuses to recognize. 
(note: both the late BriXton Brady and Del are 'herm' identified. This film may be the first non-narrative example of an 'intersex cinema'.)
4. Raafat Hattab (Jaffa)
Bidun Unwaan _ (06 min)
In much of his work, Raafat performs in a non-traditional drag as 'Arouse Falastin' (The Bride of Palestine) عروس فلسطين. The Bride of Palestine is a traditional Palestinian reference to the ancient port city of Jaffa. In 'Bidun Unwaan' (untitled) the refrain of the soundtrack is "I leave the place", and in Arabic the title also means 'without mailing address'. As the loving caregiver to the tree, both Raafat and the olive tree as symbol for the Palestinian village are two figures who have never left the place. When the camera zooms out, the context for this nurturing is revealed to actually be in the middle of Tel Aviv's Rabin Square, and the source of the water is the fountain pool by City Hall, at the centre of Zionism's largest city.
Raafat Hattab: "For me, the tree that represents my Palestinian identity, is planted in a place that, on one hand, it was Palestine, the original land of it. And now it's planted in a place that is framed, so its not its natural place, its not an olive grove and it's lonely. It represents me, that's how I feel."
5. Mirha Soleil Ross (Quebec) _ 2002 (13 min)
Allo performance _ 2002 (13 min)
From May 2001 to February 2002, artist Mirha-Soleil Ross, who is a trans woman, appeared pregnant every time she was in public as part of her 9 month long performance art cycle "The Pregnancy Project". Ross' seemingly innocuous dress is inspired by Shulamit Firestone, in this carefully layered performance video. "My mother never used spiritual terms related to Christianity. In this video she uses words that to me, go across culture and are related to Aborginal Culture, and come from 500 years of old, converted Anusian religion (Anushim are crypto-Jews forced to convert in Portugal and Spain who escaped to be early settlers of New France.) Her spirituality is in terms of 'destiny' and that is very Aboriginal. Those are things that most people wouldn't understand, but we didn't care. So much of the content is to render and recodify a sense of who the woman is. At the end of the video I fall in the water, I collapse, I fail in the water, to be a woman who can reproduce, can reproduce either Jewishness or Aboriginalness, on foreign territory." – Mirha Soleil Ross
6. Raafat Hattab (Jaffa)
Houria _ (07 min)
In "Houria" (Mermaid/Freedom), Hattab interviews Yousra, his aunt, who tells him generations of stories she has inherited, about where they lived, and where parts of the family dispersed to in 1948. The image of her storytelling is interwoven with imagery of Hattab dressed as a mermaid on the shore of Al-Manshiyeh, the northern Palestinian neighbourhood that borders the sea and Tel Aviv. Hattab, who ID's as (what is in English codified as) genderqueer, is perpetually between contexts, not unlike the beached mermaid.
7. Rémy Huberdeau (Canada)
Au pays des esprits (Home of the Buffalo) _ 2009 
(04:26 min)
Constructed from Canadian prairie archival images taken between 1920 and 1940, this film lyrically explores a son/daughter's relationship with his/her father and the family's relationship to their land.
8. Yossi Yacov (Berlin/Tel Aviv)
The National Erection _ 2007 (04 min)
Referencing a historic cannon-monument from 1948, Queer activists create a giant pink cannon-cock, to squirt giant cumshots on Tel Aviv's military and Zionist monuments as a protest gesture, thus 'dragging' the national ethos as a squirting pink satin penis. Locals report that the police felt compelled? justified? jealous? enough to destroy the 'national erection' with clubs, castrating the queer phallus, in response to the activists perversion of the landscape of national myth.
9. Jacolby Satterwhite (USA)
Reifying Desire _ 2011 (7min)
3D animation / Digital Video. A Queer Creation Myth Story based on the artist's mother's drawings and vocals. Jacolby described "Reifying Desire" to me as a "queer, non sensical, psychosexual landscape….built from drawings made by a schizophrenic, and her son vogues around the material culture she drew." He went on to define 'Queer' as "queer in the definition of outside of normativity".