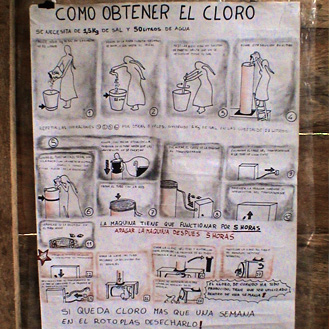 BaBeL2 research labs – Aquachlor MK4BM
Whether in situations of crisis and non-critical, living critical in today's society requires us to consider aspects deemed unimportant by the neo-liberal thinking, such as autonomy in raising the resources necessary for survival. As part of health care, autonomy for the disinfection and hygiene care is too often overwhelmed by the products that require corporations by market rules. Sodium hypochlorite solutions are used disinfectant for a long time, sold in supermarkets in various forms of consumer society (bleach and so on), but all contain the same basic substance.
From experience already realized in different communities on different scenarios, such as interventions after disasters (Malaysia – 26 December 2004 tsunami), rural (Autonomy for disinfection and hygiene care in Chiapas autonomous zones) and refugee camps (the Saharawi) is was possible to explore the use of disinfectant through a self-test machine called Aquachlor MK4BM. The type of technology used by machinery is the electrolysis: starting with a saline solution and through the provision of electricity you can produce with low cost, sufficient amount of sodium hypochlorite. In addition, the product is made with zero environmental impact, eliminating the presence of chemical additives used to prevent decay.
The November 12 will be an installation with a Aquachlor running. This machine was purchased from Epicentre Solidarity for an operation after the earthquake in L'Aquila in March 2009 and after being driven over to the Fort Prenestino continue his journey to reach Palestine ….