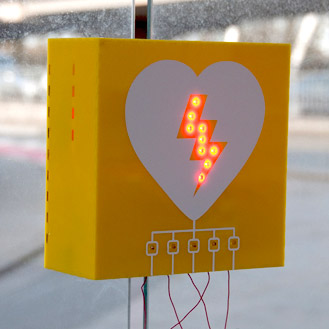 Urban Hacking workshop con Thomas Laureyssens/MAP.it
In this 2 day workshop with Thomas Laureyssens/MAP.it we use Arduino (http://arduino.cc/) and Waveshield (http://www.ladyada.net/make/waveshield/) to build interactive urban hacks that augment public spaces (bus/tram stops, benches,…) with simple interactions and sounds. Can we evoke interesting social interactions among people in public space by adding interactive interventions? Can the users of public space be made more conscious about the state of the urban space they passively or actively engage in? After an introduction the technology, projects are developed by group collaboration. The last day we install and test the prototypes on location.
Who?
Designers, (street)artists, architects, DIY-fanatics, technologists, performers… who are not afraid of some hands-on building, hacking or urban performance. No prior knowledge of programming Arduino is required, but it's good to have one or more skills that you can bring to the workshop.
Timing
18/5 18:00-20:00: Introduction and technology overview
19/5 10:30-18:00: Concept development and construction
20/5 10:30-18:00: Construction and testing in public space
What to bring
– If you want to try programming Arduino: a laptop and USB cable.
– Optional: Electronic equipment like soldering iron, multimeter, sound recording equipment,… but this is not a requirement.
– Tools of your favorite form of expression or that can be used for the hacks. For instance: Old speakers, toys that make noise, other interesting objects to take apart or re-use, spraypaint,…

join us and write at:
babel.forteprenestino(at)gmail.com
Thomas Laureyssens
flickr.markingborders