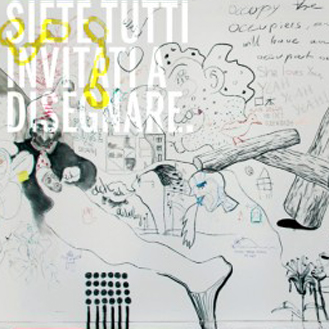 The Draftsmen's Congress
For the 7th Berlin Biennale, the curator Artur Żmijewski has created a political space in which to explore the effects of art in the society and the connections with today's social and political situations. In this setting, the Istituto Svizzero di Roma and other European art institutions that share this approach have been invited to activate "solidarity actions" in keeping with the theme of BB7, with the aim of making a network of organisms operating in different countries visible, in solidarity between them and with the Biennale. From 4 June to 20 July, in the context of the Solidarity Action undertaken by Istituto Svizzero di Roma, the Draftsmen's Congress will be presented. The launch of the Draftsmen's Congress, on the 4th of June, from 6.00 p.m. to noon at Istituto Svizzero di Roma at Via Liguria 20.
The 7th Berlin Biennale takes place from 27 April to 1 July 2012, and is curated by Artur Żmijewski together with the Associate Curators Voina and Joanna Warsza. The Biennale is organized by KW Institute for Contemporary Art with the support of Kulturstiftung des Bundes (German Federal Cultural Foundation).