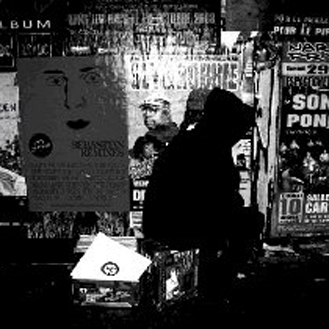 RWM DJset 19.05.2012
Ha iniziato nel 1980 nella cultura urbana hip-hop/b-boy concentrando la propria attività nella break dance. Si è evoluto poi in uno stile più eclettico e sperimentale come DJ, in particolare nel primo Industrial e nella musica elettronica. Poi si è messo in luce nei party underground warehouse a Chicago e nel Regno Unito per poi frequentare club e concerti alternativi a New York. Nel 1989, RWM conosceva già i suoni di Acid House di Chicago e del Regno Unito e della prima Techno Detroit fortemente influenzata dalla tempesta Rave / Sonic Groove Records collective, Frankie Bones, Adam X, Jimmy Crash e Heather Cuore, da Brooklyn, NYC. Più tardi ha stabilito un collegamento immediato con la musica, gli artisti e la cultura e ha frequentato oltre 150 eventi durante questo periodo, dalla Est Coast alla West Coast America al Canada. Successivamente ha organizzato techno DJ party underground fino al 1993 con il progetto Shadowcast Organization. Nel 1997 è stato assunto da Satellite Records a New York. Oggi, DJ RWM risiede a Berlino frequenta Parigi dove è attivo come direttore creativo ancora per Shadowcast Organization. A breve farà un tour mondiale all'inizio del 2012, con l'obiettivo di proporre alle persone un approccio diverso all'arte della DJ'ing e spingendo il suono ai limiti, un dj set che è principalmente con i vinili ma che può integrarsi non limitandosi a uno stile o a un genere musicale.
RWM DJset 19.05.2012
Beginning in 1980's urban hip-hop/b-boy culture centered around the activities of break dancing Evolved from there into a more eclectic and experimental style as a DJ, with a strong focus on early Industrial and Electronic Music. During his time there he was also exposed to information about the underground warehouse party scenes in Chicago and The U.K. and already frequenting clubs and alternative concerts in NYC. By 1989, RWM was already familiar with and DJ'ing the sounds of Acid House from Chicago and the U.K. and early Detroit Techno heavily influenced by the Storm Rave / Sonic Groove Records collective, Frankie Bones, Adam X, Jimmy Crash and Heather Heart, from Brooklyn, NYC. An immediate connection to the music, the artists and the culture was established and he attended more than 150 events during that period, from East Coast to West Coast America and Canada and also began to organize and DJ Underground Techno parties by 1993 under the concept which became known as, and still today is, Shadowcast.Organization. By 1997 he was employed by Satellite Records in New York City where he was the buyer for the IDM, Techno ( Hardcore ) and Experimental Electronic Music. Today, DJ RWM resides in Berlin, Germany and frequents Paris, France where he is active as the Creative Director for Shadowcast.Organization and after many years remaining in obscurity as a DJ. Will do a world tour in the beginning of 2012, with the aim to expose people to a different approach to the art of DJ'ing and pushing boundries in sound, a DJ set that is predominantly all vinyl and also intergrating new digital micro technologies and not restricted to one style or genre of music . The tour is also a " Network Mission " for the Shadowcast.Organization, with the intent to promote the idea of going back to the roots of the underground philosophy that surrounded Electronic Music in the D.I.Y and early Rave scenes worldwide, in order to go on to the next step into the future of and creation of new concepts in sub cultural events.