Associazione culturale Temporiuso
Temporiuso è un'associazione culturale per la promozione di progetti di riuso temporaneo di spazi in abbandono ed è anche una rete di collaborazioni con associazioni, attivisti e ricercatori a scala locale ed internazionale. Il progetto si rivolge, per ora, al comune e alla provincia di Milano e si propone di utilizzare il patrimonio edilizio esistente e gli spazi aperti vuoti, in abbandono o sottoutilizzati di proprietà pubblica o privata, per riattivarli con progetti legati al mondo della cultura e associazionismo, dell'artigianato e piccola impresa, dell'accoglienza temporanea per studenti e turismo giovanile, con contratti ad uso temporaneo a canone calmierato.
temporiuso.org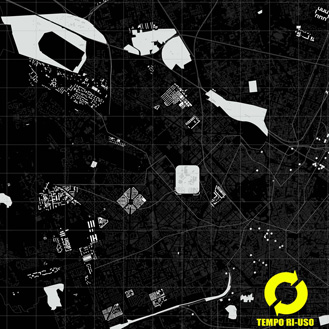 Temporiuso is a cultural association for the promotion of reuse projects in temporarily abandoned spaces. It is also a network of partnerships with local and international associations, activists and researchers. The project is developed to the municipality and province of Milan, it intends to use the existing buildings and open spaces empty, derelict or underused publicly owned or private, to reactivate them with projects related to cultural and associations, 'crafts and small activities, hospitality and tourism students for temporary youth, with contracts for temporary use and rent-controlled lease.